Today is Blog Action Day. More than 7,000 bloggers around the world have agreed to write a post today on the same topic to encourage people to learn more about it and to inspire a positive change.
This year's topic: Climate Change

We know it's bad. We've all seen the various episodes of South Park and Little Bush making fun of Al Gore and his crusade to save the planet. But humor aside, it is important. There are some simple easy changes we can make that will make a big difference.
I read a book a few weeks ago that spoke about what seems like an unlikely source for global climate change, the meat industry. Not only are there health benefits from eating a diet based primarily on fruits, vegatables, and grains; but there's also a positive impact for the encironment.
In his book Food Matters, Mark Bittman covers the impact that the meat industry and the industries that support it are having on the environment.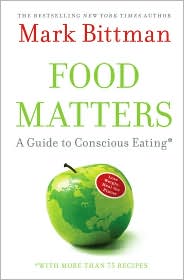 Here's one of the reviews of the book on
Amazon:
Cookbook author Bittman (How to Cook Everything) offers this no-nonsense volume loaded with compelling information about how the food we eat is doing damage to the environment, what changes to make and why. Authors have covered this topic before (Michael Pollan, for example, in The Omnivores Dilemma and In Defense of Food), but Bittman takes a practical turn by concluding with 77 recipes that make earth-friendly eating doable and appealing. His collection of reliable recipes even includes such meat dishes as Thai beef salad, which isnt meat-heavy, but rather has just the right balance of meat to greens. There are also such staples as super-simple mixed rice; chicken not pie; and modern bouillabaisse. Bittman decries consumption of over-refined carbohydrates, but doesnt leave off without some sweets, including chocolate semolina pudding and nutty oatmeal cookies—suggesting, as the whole book does, that a diet in synch with the needs of the earth doesnt result in a sense of utter deprivation. (Jan.) Copyright © Reed Business Information, a division of Reed Elsevier Inc. All rights reserved.
If anyone is interested in learning more about this topic, I recommend this book. Mr. Bittman is an easy writer to follow, and an engaging one as well. Rather than just giving you facts to fill your head, he also provides recipes so you can fill your belly.